Special Offer for "The Law of Marketing" Attendees
A Special Offer for Digital Media Boom, "The Law of Marketing" Attendees
We hope you found the speaker series, "The Law of Marketing" by Digital Media Boom, an informative and enlightening event.
If you meet the below listing criteria, we are pleased to extend to you, preferential pricing that amounts to a $50 discount off our regular pricing.
Listing Criteria:
10+ years experience in your area of practice?
Firm Partner?
Certified as a specialist by the legal governing body of your province
Possess at least one of the above? Then you qualify for a listing in Top Lawyers Canadian lawyer directory, http://www.toplawyerscanada.ca!
A Few Testimonials
(The originals and more can be found on our LinkedIn page!)

"Our listings on TopLawyersCanada.ca and TopTorontoLawyers.ca gave us the exact boost we were looking for in our online visibility. Jim delivers results, is responsive and a pleasure to work with."
Mr. Horowitz and the other senior partners at Futerman Partners LLP are listed in the Toronto Personal Injury Lawyers section of Top Lawyers™
"Jim made it incredibly easy to list with Top Lawyers and my presence online is noticeably more visible. You provide your details and Jim does the rest."


Mr. Cohn is listed in the Toronto Criminal Defence Lawyers section of Top Lawyers™
"Top Lawyers™ offers an excellent way for lawyers who are passionate about their work to be found by those who can benefit from their experience. I highly recommend Jim and the various products he offers to the legal community."
Ms. Daniels is listed in the Ottawa Family Lawyers section of Top Lawyers.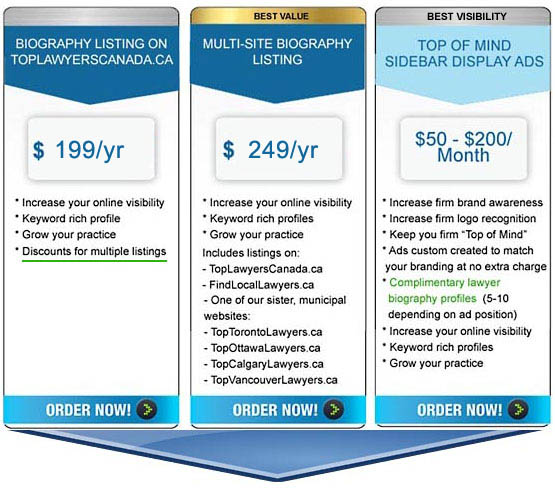 Please ensure you meet the listing eligibility criteria at the top of this page BEFORE ordering. If you have any questions call 1-888-645-5228. Refunds will be issued, but less PayPal processing fees.
No other medium can offer you the reach, flexibility and affordability that the Internet provides. We are aggressively priced in relation to our competitors and offer extraordinary value given our considerable experience and proven track record of helping lawyers / law firms enhance their online presence and visibility. The lawyers listed with us enjoy unmatched visibility in people's search for a Top Lawyer in their city and practice area.
Let us help you grow your practice and enhance your firm's online visibility.

****************************************************************************************
*** Prices All In! Sidebar Ads Custom Created at No Extra Charge! ***
****************************************************************************************
Contact Us
Feel free to contact us directly if you have any questions or you wish us to process your subscription manually. Additionally, it is best you contact us if three or more biography profiles are being purchased so we can properly apply your multiple listing discount. Simply contact us and we will get back to you with all the details!
Telephone: (Toronto Local) 416-988-4529
(Toll Free) 1-888-645-5228
E-mail: [email protected]
Or via the below form.
[si-contact-form form='1′]
Canadian Online Lawyer Directory >> Top Canadian Lawyers