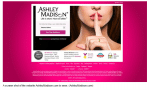 Over the last five years, I have noticed different patterns emerge in our web traffic.
For example, summer marks a sharp increase in visitors to our site seeking criminal defence lawyers. The higher the temperature, the higher our search volumes.
Logically, this makes sense. We are out more enjoying the weather. Staying out later. Interacting and socializing with friends and strangers alike for greater periods of time.
It's hard to get in trouble laying on your couch under your snuggie during the winter when its minus 25C.
Continue reading …