Cerebral Palsy and a Viable Medical Malpractice Claim
The Advocate Files: Cerebral Palsy and a Viable Medical Malpractice Claim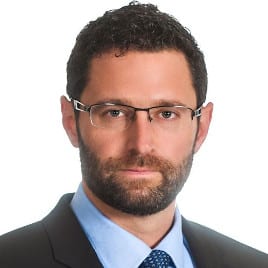 `
Cerebral Palsy and a Viable Medical Malpractice Claim
Comment by: Paul Cahill – Toronto Medical Malpractice Lawyer at Will Davidson LLP.
For parents who are burdened with monumental care obligations and expenses associated with having a child with cerebral palsy, the question that must be asked is whether it could have been avoided, Toronto medical malpractice lawyer Paul Cahill tells us.
Cahill, a partner with Will Davidson LLP, explores the way that infants acquire cerebral palsy, as well as some of the warning signs that might suggest a viable claim for medical malpractice.
Cerebral palsy is a recognized consequence of hypoxic ischemic encephalopathy (HIE) or intrapartum asphyxia, which occurs when an infant's brain is deprived of oxygen (hypoxia) and blood (ischemia), he says.
"Encephalopathy simply refers to any condition in the brain that results from reduced blood and oxygen supply," Cahill writes.
"Cerebral palsy is a group of permanent movement disorders that appear during early childhood. Symptoms include weak or stiff muscles, tremors or poor speaking co-ordination. There can also be problems with sensations, vision, hearing and swallowing. The degree of disability caused by cerebral palsy varies significantly depending on the severity of the disorder."
In discussing the legal considerations in a medical malpractice case, Cahill says there are often only two liability issues in dispute in a typical claim: standard of care and causation.
"Standard of care is framed in terms of what a reasonable and prudent physician would have done in the same or similar circumstances," he says.
"Standard of care is assessed without the benefit of hindsight, based on knowledge available at the time. In order to succeed in a malpractice claim, the plaintiff must prove that the defendant physician's actions or omissions fell below or breached the standard of care expected of him or her at the time."
Establishing a breach of the standard of care is an essential element to proving negligence, Cahill says.
"Causation is the other, and often more medically complex component to establishing liability," he writes. Causation, he says, is most often expressed in terms such as but for the breach of the standard of care, it is more likely than not that the patient would not have sustained the poor outcome suffered in this particular case.
"Both of these issues are highly driven by facts and expert opinion."
Given the recognized association between cerebral palsy and HIE, a medical malpractice lawyer would be inclined to investigate the circumstances leading up to the birth of the infant and the immediate treatment that followed, Cahill notes.
"A physician or other health-care provider cannot be responsible for not acting on information that was not (or could not have been) available to them at the time," he says. "In other words, at a high level, a potentially viable claim in medical malpractice would typically have concerning clinical and/or radiological evidence that was seemingly not appreciated or appropriately acted upon by the health-care team at the time."
In any potential cerebral palsy claim, the specific information to look for would be signs and symptoms of fetal distress, which could include a decrease in fetal movement, meconium (black stool) in the amniotic fluid, non-reassuring patterns seen on cardiotocography (fetal heart monitoring), and abnormal biochemical results, such as an increase in acidity in the blood and other body tissues (metabolic acidosis), Cahill says.
While looking at a particular case, an investigating lawyer would have to pay attention to the medical response, if any, to these concerning findings, he says. "Was it a difficult labour and delivery? Was the baby delivered immediately, or did a significant length of time pass?"
There are potentially further concerns after the baby is born, such as untreated hypoglycemia (low blood sugar) that may also result in brain injury, Cahill explains.
"The medical issues are obviously much more complicated, which is why consultation with appropriate experts is essential in order to fully evaluate the potential merits of a case," he writes.
"Cerebral palsy is a recognized consequence of a traumatic brain injury at birth. Although some birth injuries are unfortunately unavoidable, others may have occurred because of medical malpractice and were therefore preventable."
Cahill also says these are potentially large damages claims and it is incumbent upon lawyers investigating these cases to determine whether there are sufficient grounds to litigate.
"Although not always clearly evident, it is generally true that where the medical evidence suggests fetal distress with a corresponding lack of timely response by health-care professionals, there could be a viable claim in malpractice," he says.
"At a minimum, such circumstances would certainly warrant careful investigation and consideration into potentially advancing a claim for compensation."
This and other articles / posts originally appeared on the now defunct advocatedaily.com. As expressed in writing by that website's owner, the articles / posts, part of a paid service provided by Advocate Daily, are the intellectual property of the lawyer and/or legal service provider who wrote, or for whom the article / post was written and they are free to use as they wish.
All articles / posts redeployed on Top Lawyers are done with the expressed consent of the professionals mentioned in said article / post.