Choosing Experts in a Personal Injury Case
The Advocate Files: Choosing Experts in a Personal Injury Case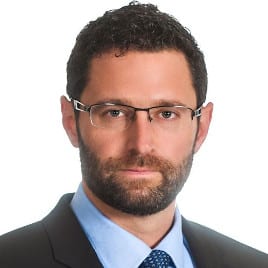 `
Choosing Experts in a Personal Injury Case
Comment by: Paul Cahill – Toronto Injury Lawyer at Will Davidson LLP.
To ensure the best chance of litigation success, it's important for plaintiff counsel to choose the most effective experts to provide evidence in the case, says Toronto personal injury lawyer Paul Cahill.
"A good expert can make all the difference in a case and a bad expert can have a dire impact if not chosen appropriately," he tells us. "Expert witnesses are important in terms of helping the trier of fact — the judge or the jury — understand some of the medical issues that relate to a person's injury.
"From a legal perspective, it's not really possible to have a client testify about the nature and extent of their disability. They're not a doctor and aren't familiar with the medical terminology. You need to have a physician, often more than one, to explain the diagnosis, prognosis and treatment history."
Cahill, a partner with Will Davidson LLP, says experts are required in certain cases to provide opinion evidence on a number of issues to prove a case.
It's important to point out that the burden rests with the plaintiff to prove there was negligence on the part of a defendant that caused damages to the plaintiff, he says. It's also up to the plaintiff to quantify those damages.
"Proving those three things — liability, causation and damages — can require a number of different types of experts," he says.
"It's up to the plaintiff's lawyer to identify the issues that need to be proven and identify what experts may be required to prove any of those issues."
In a medical malpractice case such as an obstetrical negligence matter, counsel would most likely need to start consulting with an obstetrician, neuroradiologist, pediatrician and/or various other physicians to help understand what happened and why, and to prove in court that there was negligence by one or more of the defendants, Cahill says.
"Similarly, in a motor vehicle accident claim when it comes to proving liability, it may become necessary to hire an accident reconstruction expert or forensic engineer to understand how the crash happened and how it may be in part, or in whole, the fault of some or all of the defendants," he says.
And since proving damages is an essential component of any personal injury case, Cahill says counsel will have to make decisions about where to send clients for injury assessments such as to an orthopedic surgeon, psychiatrist, occupational therapist and various types of specialties that would write reports to outline the nature and extent of a person's disability that arose from negligence.
"Furthermore, the quantification of damages would require hiring an economist, accountant or future cost-of-care assessor to figure out how much damages were suffered by the plaintiff," he says.
It's also important for lawyers to choose experts who will provide reports that are independent and unbiased, Cahill says. His firm is careful to avoid experts who have been the focus of negative judicial commentary, he adds.
"You want to be aware of the history of a particular expert and, if you feel that history is going to negatively impact the prosecution of a case, you may do well to avoid that expert," he says. "It's part of the due diligence of lawyers when they make decisions about who they want to hire in a particular case."
Cahill says he prefers to hire a medical expert who practises medicine most of the time rather than one who makes a living providing medical/legal assessments.
"There are some experts who have limited clinical experience and have focused mostly on the medical/legal side, and that's not necessarily a preclusion for them to testify, but it's sometimes better to have someone who is more of a doctor than a medical expert," he says.
This and other articles / posts originally appeared on the now defunct advocatedaily.com. As expressed in writing by that website's owner, the articles / posts, part of a paid service provided by Advocate Daily, are the intellectual property of the lawyer and/or legal service provider who wrote, or for whom the article / post was written and they are free to use as they wish.
All articles / posts redeployed on Top Lawyers are done with the expressed consent of the professionals mentioned in said article / post.