Cyclist Safety: Safety Requires Cyclists, Drivers to go Extra Mile
The Advocate Files: Personal Injury | Cyclist Safety Vulnerable Road Users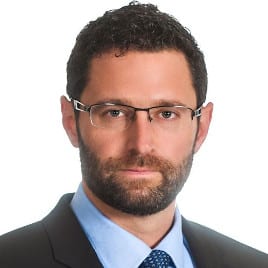 `
Cyclist Safety: Safety Requires Cyclists, Drivers to go Extra Mile
Comment by: Paul Cahill – Toronto Personal Injury Lawyer at Will Davidson LLP.
Avoiding accidents between motorists and cyclists depends on everyone knowing their surroundings at any given moment, says Toronto personal injury lawyer Paul Cahill.
Injuries from collisions can be catastrophic and any initiative to reach the magic number of zero injuries is laudable, he tells us. However, a Toronto Star story and Toronto Police statistics show the rate of pedestrian and cyclist deaths and serious injuries are at a potential record level this year.
According to the statistics, 29 cyclists were killed in Toronto between 2007 and 2017. Four were aged 19 years or younger, 14 between 20 and 54 years of age, and 11 were 55 or older. During the same 10-year period 331 pedestrians killed.
Cahill, a partner with Will Davidson LLP, says bicyclists ride on shared roads, pathways and designated bike lanes, and that each route has its own advantages and concerns.
On open roads, motorists are expected to look out for cyclists, he says. They are required to leave a metre of space when passing a cyclist. A motorist can cross the centre line of a road, if done safely, to pass a cyclist. Otherwise, the driver must wait behind the cyclist until it's safe to pass.
Cahill, an avid cyclist, says riders hope "no one drives too close to you, and that's where I think the one-metre law is helpful because I think it effectively enacts a cycling path where one doesn't exist because it requires cars to go around them."
He says he understands why motorists could find it frustrating on some narrow roads when they can't pass slower bikes easily or quickly. "To give the amount of space required almost forces the motorist to change lanes to give enough way to the cyclist," Cahill says.
"I ride my bike to work most days, and I'm cycling about 20 km a day," he says. Cahill bikes mostly on paths on this trek to work — and home — but he also includes riding on designated bike lanes and on roadways.
Roadways with bikes lanes are safer than those without, but Cahill says he finds they can "anecdotally can be dangerous because sometimes pedestrians can presume they can just walk onto the dedicated bicycle path without looking both ways.
"I've had a number of instances when a pedestrian stepped in front of me or other bicyclists causing a dangerous situation," he says.
Another risk is when motorists turn right through a bike lane without taking proper precautions for oncoming cyclists, Cahill says. "The good news is that a designated bike lane keeps space between motorists, bicyclists and pedestrians for the most part."
There are rules of the road in the Highway Traffic Act that bicyclists must obey — part of the same provincial legislation that governs motor vehicles. New rules and fine amounts were adopted in 2017.
"The consequences of not passing someone safely are very significant for the cyclist and that's why motorists have to be very careful," Cahill says. "There is no doubt cyclists have to be very aware of their surroundings and should assume the motorist doesn't see them.
"Even though you may have the right of way in particular circumstances as a cyclist, you don't want to presume that a motorist will actually stop at a stop sign or not turn right until it's clear, or whatever the case may be," Cahill says.
Many cyclists use bells or whistles, something Cahill says is a safety precaution to ensure motorists and pedestrians see the riders.
"Strictly speaking, everybody should obey the rules of the road," he says. "If they do, accidents shouldn't happen but when people don't obey the rules, that's when accidents can happen, and they can occur at any time."
All bicyclists should wear helmets but the law only imposes headgear to children and youths under 18, adults are not required to wear them, Cahill explains. They should also have lights, but the law only requires reflectors and reflective gear, he says.
"You can buy really good equipment from specialty stores, especially for those who use their bikes frequently or ride on the road with cars," Cahill says. "If you're in traffic, you should have everything.
"You can't go too far to prevent a serious accident," he says.
Drivers should be careful when opening a door to ensure there are no approaching cyclists or anyone else using the road, such as a skateboarder. A $365 fine, with associated fees, can be imposed along with three demerit points if a motorist "doors" a cyclist.
Cahill says collisions can be catastrophic as cyclists can easily reach speeds of 20 to 30 km/h and "they're quiet and most people don't look or think of them ."
He says he's come across cases where cyclists were hurt after losing control by not paying attention while on country roads during long-distance jaunts.
"And I've had cases where people were injured when they were riding in the country and a barking dog ran into the road and caused the cyclist to lose control and fall," Cahill says.
He says in a perfect world, the motorist, the cyclist and the pedestrian should always be aware of what is happening around them.
"I think it would be an achievement to reach no accidents by a certain time," Cahill says. "It would be great. Any movement towards zero is good."
This and other articles / posts originally appeared on the now defunct advocatedaily.com. As expressed in writing by that website's owner, the articles / posts, part of a paid service provided by Advocate Daily, are the intellectual property of the lawyer and/or legal service provider who wrote, or for whom the article / post was written and they are free to use as they wish.
All articles / posts redeployed on Top Lawyers are done with the expressed consent of the professionals mentioned in said article / post.