Medical Malpractice Verdict 'Momentous' for Family
The Advocate Files: Personal Injury | Medical Malpractice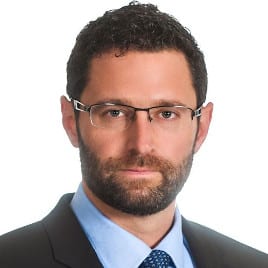 Medical Malpractice Verdict 'Momentous' for Family
Comment by: Paul Cahill – Toronto Medical Malpractice Lawyer at Will Davidson LLP.
Toronto personal injury lawyer Paul Cahill's recent medical malpractice win was a "momentous" day for a family whose daughter was left quadriplegic at birth.
Cahill, partner with Will Davidson LLP, acted for the parents, who sued their former obstetrician on their daughter's behalf after she developed severe cerebral palsy as a result of brain damage suffered in the wake of her birth in 1991.
Following a three-week trial in Kitchener, Ont., a jury found the doctor liable, determining that he fell short in the standard of care provided to the child, and awarded damages of $11.5 million to the family, an amount that the parties agreed to ahead of the trial in the event the jury found in the patient's favour.
"Given that so much time had passed before they got the opportunity to have their day in court, it was obviously a momentous day to finally get justice," Cahill tells us. "Their daughter needs substantial care, which mom and dad have basically borne responsibility for since her birth injury.
"This will give these parents the financial security to get her the care she needs, while also having the opportunity to pursue their own interests. It's a fantastic result for them, and well-deserved," he adds.
Cahill says the case was hard-fought for the entire decade that it spent winding its way through the court system, as is typical of judicial proceedings involving the Canadian Medical Protection Association, which provides liability coverage and legal defence to doctors across the country.
A recent CBC story reported on the difficulty people face when vying to obtain compensation from doctors who are accused of negligence, with statistics suggesting the volume of lawsuits against physicians has fallen over the last four decades — along with patients' success rates at trial.
The report found one in three medical malpractice trials were decided in the plaintiff's favour in the late 1970s, compared with just one in five cases today.
"The association does tend to be aggressive in its approach. They tend not to offer any kind of settlement for a long time, and may never offer one, forcing you to go to trial if you want compensation," Cahill says. "It's not easy to be a successful litigant against doctors. But then, it's never easy to litigate against anyone.
"Would it be a more just system in some way if they showed a greater desire to settle some cases? Possibly, but they have every right to take the litigation strategy they want."
According to documents filed with the court, the child in Cahill's case was born prematurely — along with her twin sister — at 27 weeks due to twin-to-twin transfusion syndrome, a condition that sees one child developing at a slower rate because of blood vessel abnormalities that allow blood to flow between the babies in the womb.
Cahill argued that the pregnancy could have been prolonged, with both twins emerging unharmed, had the Niagara Falls, Ont. obstetrician diagnosed the problem earlier and referred the mother for treatment.
"When we first brought the children home it was utter chaos," the mother told the Welland Tribune following the verdict. "I was sort of a caregiver-nurse, which sometimes interfered with me being a mum. There was the constant worry about them getting enough oxygen. It was quite a struggle."
A number of experts called by both sides testified about the treatments available in 1991 and their chance of success, while the obstetrician denied on the stand that he was negligent.
The jury was not made aware of the doctor's previous troubles with his regulatory college, which ultimately resulted in an agreement that he would let his licence lapse, along with a promise never to reapply.
"The judge was very clear in telling the jury not to go online or read media reports. From the lawsuit perspective, you could see where that information would be a problem for the judge," Cahill explained to the newspaper.
"Of course, from a common-sense perspective, it is hard to understand why it wouldn't be allowed. As far as we knew, the jury had no idea about his past. It certainly wasn't in the evidence."
This and other articles / posts originally appeared on the now defunct advocatedaily.com. As expressed in writing by that website's owner, the articles / posts, part of a paid service provided by Advocate Daily, are the intellectual property of the lawyer and/or legal service provider who wrote, or for whom the article / post was written and they are free to use as they wish.
All articles / posts redeployed on Top Lawyers are done with the expressed consent of the professionals mentioned in said article / post.