Paul Cahill – Will Davidson LLP
The Advocate Files on Top Lawyers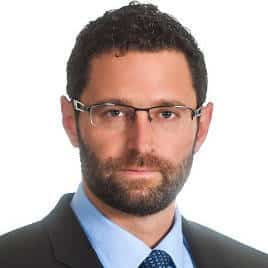 FIRM: Will Davidson LLP
POSITION: Partner
AREAS OF PRACTICE: Personal Injury and Medical Malpractice Law
PHONE: 416-643-3857
EMAIL: pcahill@willdavidson.ca
WEBSITE: https://www.willdavidson.ca


Paul Cahill, a partner with the Toronto personal injury law firm Will Davidson LLP, focuses on personal injury and medical malpractice.
He graduated with a Bachelor of Arts (Hons) from Queen's University in 2001, before earning his Bachelor of Laws from the University of Ottawa in 2004. Mr. Cahill was called to the Ontario Bar in 2005.
In his personal injury practice, Mr. Cahill assists clients with medical malpractice, car accident, slip and fall, occupiers' liability, and product failure. He also handles issues involving first-party insurance claims for disability benefits.
Practising law for more than a decade, Mr. Cahill has represented clients at trials, motions, appeals, and tribunal hearings.
He has appeared before both the Divisional Court and the Court of Appeal, and has represented clients at administrative boards and tribunals such as the Workplace Safety and Insurance Appeals Tribunal, the Health Professions Review and Appeal Board, and the Canada Pension Plan Review Tribunal.
In addition, Mr. Cahill speaks at industry conferences and has published articles in legal publications.
Paul is listed in Top Lawyers as a leading Toronto personal injury lawyer and Medical Malpractice lawyer in Toronto.
---

Posts by Paul Cahill