Koster Writes Book to Commemorate 25 Years in Business
The Advocate Files: Legal Supplier | Elder Abuse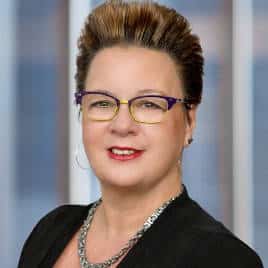 The new book by Toronto workplace violence and elder abuse consultant Denise Koster is dedicated to a woman who didn't live long enough to know the impact she had on her life.
If not for Norma, Koster says she probably wouldn't be celebrating 25 years of Koster Consulting Associates this year.
She was a third-year Ryerson University student in the mid-1980s when her work with a local community centre led her to a small, dark apartment in a low-income neighbourhood of Toronto.
Koster's job included knocking on doors to find seniors in need of some of the services the centre offered. Along the way, she found an 89-year-old woman who had been raped by her son-in-law, another who paid for grocery deliveries with sex, and a woman whose son withheld badly needed medications until she gave him money.
The housing corporation referred an older woman who was in need of help with shopping. The woman had no telephone, so Koster had to visit her home in order to complete the request. When she knocked on Norma's door, it was opened by a person who scurried away to a back room without being seen. Entering into the apartment, she found Norma lying on the couch, staring at her "like a deer caught in the headlights," recalls Koster.
"She didn't say much, and she put her finger to her lips in a shushing motion and pointed to the wall where the other person had disappeared," she tells AdvocateDaily.com.
It was pretty clear the woman was afraid of that person, and she quickly hid the pamphlet Koster gave her in a book.
She left and set up the shopping service, not expecting to hear from the woman again. A few weeks went by, and the shopper assigned to Norma showed up with a note for Koster.
"It was two words, that's it, in a child-like scribble," she says.
"Help me."
Koster immediately went to the apartment and found Norma on the couch. She had been beaten by her husband, who was in the next room — still unseen. Norma didn't want to involve the police, so Koster started dropping by every day to check on her.
"I was just so afraid for her life that I kept going back," Koster says, adding that she never once saw or spoke to the husband because she worried that if she angered him, he would take it out on his wife or deny her further access to what appeared to be one of Norma's only outside contacts.
About two years after their first meeting, Norma was diagnosed with terminal cancer, explains Koster. The prognosis was so poor, she wasn't offered any treatment options.
"As she grew more and more frail, she became more dependent on her husband," she says. "She barely left the couch, but her husband refused to accept any of the services that could have helped them both."
When Norma ended up in the hospital with a broken arm, she admitted to Koster that her husband had pushed her.
Koster had already gone to the police two or three times without Norma's permission but was told they wouldn't respond unless the victim personally made the complaint.
But Norma still didn't want to involve the police. She said, "This is my life. I was beaten as a kid, I was beaten as a young woman, and I'm beaten as an old lady. That's just my walk in life."
Norma returned home, and Koster soon got a call from the same hospital. This time, Norma's husband hit her with her walker and broke her other arm.
Lying in the hospital with casts on both arms, she told Koster that after 50 years of abuse, she had finally had enough. She wanted him charged.
She says the husband was arrested, and arrangements were being made for Norma to go to a special-care home.
But the man apologized and promised it would never happen again. He said all the right things and agreed to accept help from social services. Norma decided to return home.
The next day, Koster was called to identify her body at the morgue.
She would later find out that a health-care professional had dropped by the apartment and found Norma lying on the couch. Her husband had taken everything out of the kitchen cupboards and thrown it at her. She was covered with food and would soon be dead.
The worker quickly left, saying it was obviously not a good time for a visit, says Koster.
"How can someone walk in and see this woman with terminal cancer, two broken arms, covered in food, and leave, believing it's not a good time?"
Koster says the whole experience set her on a new and inspired career trajectory.
"I couldn't get Norma and other abused elderly people out of my mind," she says. "It started me on a mission."
Koster soon started the Downtown Elder Abuse Network and began talking to people about what else was needed.
"I immediately started networking with other professionals, identifying gaps in order to create programs to fill those gaps," she sums up. "I couldn't understand how older people, particularly low-income seniors, were not being treated with the respect they deserved, and someone like Norma was not even granted that dignity in death."
Koster's work in elder abuse soon revealed another group of people who needed support — employees who experienced bullying and harassment on the job from clients and co-workers.
In 1994, she started Koster Consulting and Associates, which focuses on workplace violence and elder abuse. This year, to commemorate 25 years in business, she wanted to write a book, Refusing to Accept the Unacceptable: The trials, tribulations and triumphs of workplace bullying and harassment, which she hopes will be published by Dec. 1.