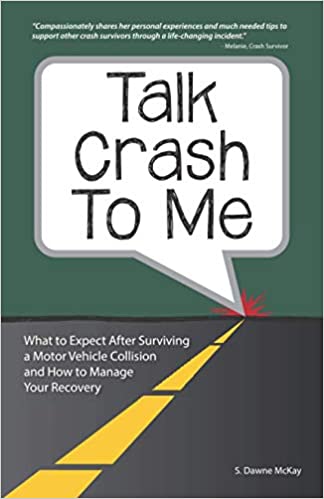 Every day on the evening news, we see reports of the daily carnage that occurs on our roads and highways.
If known at the time, reporters may mention if someone died on scene or later at hospital. Sometimes, first responders may describe injuries sustained as "life altering" but rarely do we hear of the aftermath of these motor vehicle crashes and how crash victims and their families are managing.
This is one of the reasons I was so delighted to connect with Dawne Mckay, founder of The Crash Support Network and a car crash survivor herself.
Dawne suffered multiple injuries, including a brain injury, in a horrific collision involving an 18-Wheeler truck. She, like all MVA victims, find their worlds turned upside down while trying to navigate life with disabling, life altering, injuries that can take years to recover from.

Once discharged from general hospital or rehabilitation facility settings – the real struggle begins. The home, once a place of comfort and peace, is now a hostile environment. Narrow doors and hallways, stairs, inability to access the bathroom, lack of appropriate home care and other supports quickly leaves motor vehicle accident victims and their families overwhelmed.
Dawne's journey is a story of strength and courage.
She is the author of Talk Crash to Me where she shares her personal experiences post-crash and outlines what one can expect as they recover from a motor vehicle crash.
She also founded and administers an online support group for crash victims and their families.
Whether the injured person is an adult, teenager or a young child, the impact of serious and traumatic injuries on the individual and their families cannot be over stated. The Crash Support Network is an excellent and much needed resource that allows individuals from around the world to connect virtually and feel less alone as they struggle to recover from serious auto related injuries.
Learn more about Dawne, her uplifting book and how to access her online support group at https://crashsupportnetwork.com.
We can help you! Whether you are a sole practitioner or a law firm with offices across Canada, our national online lawyer directory,
toplawyerscanada.ca
; and our related lawyer directories, give you the exposure you need in a competitive legal marketplace.
Contact us today for details
or click here and
join up right now
!