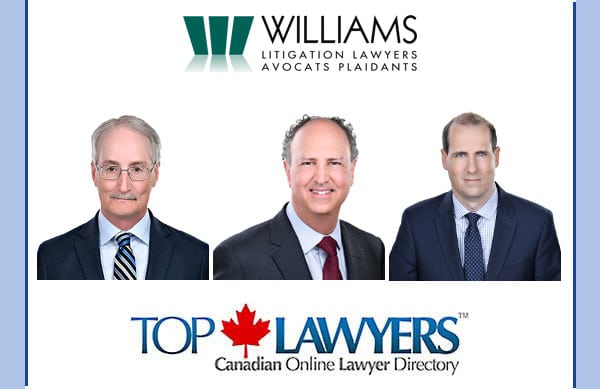 Williams Litigation Lawyers are leaders in the Ottawa legal community.
We are delighted to welcome three members of their Ottawa personal injury and insurance law litigation team to Top Lawyers™

Mr. Reil is a partner at Williams Litigation Lawyers and has over 30 years of litigation and mediation experience.
He Devotes his practice to civil litigation, including personal injury litigation, and has represented diverse institutional and individual clients.
Mr. Moscoe's practice focuses exclusively on personal injury law. His 30+ year career is characterized by the exceptional results he has achieved on behalf of his seriously injured clients.
Mr. Hart is a partner at Williams Litigation Lawyers and focuses his practice on civil litigation.
The more challenging a case, the harder Kelly is motivated to work towards achieving the best possible outcome for his clients.
To discover more about Chris, Aaron and Kelly please see their respective profiles:
+ Ottawa Personal Injury Lawyer Christopher Reil
+ Ottawa Personal Injury Lawyer Aaron Moscoe
+ Ottawa Personal Injury Lawyer Kelly Hart
We can help you! Whether you are a sole practitioner or a law firm with offices across Canada, our national online lawyer directory,
toplawyerscanada.ca
; and our related municipal based lawyer directories, give you the exposure you need in a competitive legal marketplace.
Contact us today for details
or click here and
join up right now
!
Related Categories in this post:

+ Ottawa Personal Injury Lawyers

1484 total views, 1 today