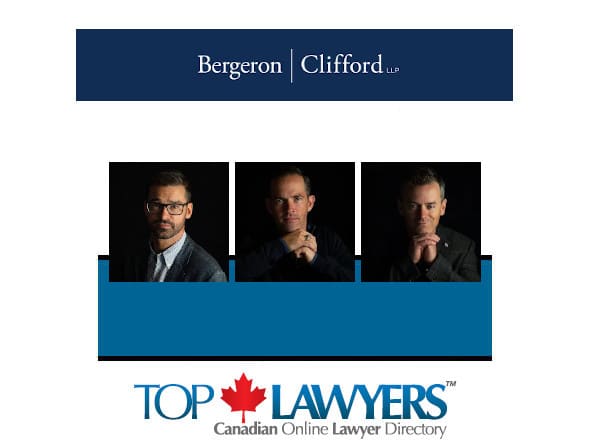 We welcome three additional Partners from one of Ontario's leading personal injury law firms.
Each of them is certified as a specialist in civil litigation.
Each of them has a track record of exceptional legal outcomes achieved on behalf of their seriously and catastrophically injured clients and their families.
We are delighted to welcome Warren Whiteknight, Gavin Cosgrove, and Joe Dart of Bergeron Clifford LLP.
They join our site along with the founding name partners Ted Bergeron and Chris Clifford who we have been honoured to have with us for a few years now.
Helping people find and connect with experienced lawyers best positioned to help them in a crucial time of need is what Top Lawyers™ is all about.
To discover more about these lawyers and their experience, please see their profiles:
Warren Whiteknight
+ Whitby Personal Injury Lawyer
+ Cobourg Personal Injury Lawyer
Gavin Cosgrove
+ Ottawa Personal Injury Lawyer
+ Brockville Personal Injury Lawyer
Joseph Dart
+ Kingston Personal Injury Lawyer
+ Belleville Personal Injury Lawyer
Whether you are a sole practitioner or a law firm with offices across Canada, our national online lawyer directory,
Top Lawyers™
; gives you the exposure you need in a competitive legal marketplace.
Join today!