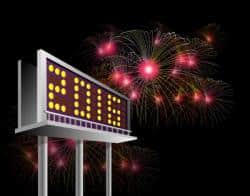 As those of you connected with me on LinkedIn know, 2016 marks the start of Top Lawyers™ sixth year in business! Where those years have gone, I have no idea, but I do know I've enjoyed every challenge and step along the way.
We launched in December of 2010 with the mission statement:
"Help experienced lawyers boost their online visibility to a level commensurate with their professional standing in the real world."
What does that mean?
Simply stated: We think lawyers with 10, 15 or 30+ years of experience should appear in search engines before less experienced lawyers – and we provide a platform for senior lawyers to achieve just that. We believe, all things being equal, experience leads to the most successful outcomes – and we provide a platform for consumers to connect with those experienced lawyers.

How do we go about it?
Our first challenge was to develop a website that had an architecture that would perform well in search for our lawyer clients. We've been crushing it since day one. Our clients enjoy enviable positioning in search engine results pages. Today, we are on the third incarnation of this site. What's changed? Speed. Mobile friendly. Gorgeous next-gen design. What hasn't changed? Same great SERP results.
Our second challenge was "How do we differentiate ourselves from other lawyer directories?" With a name like Top Lawyers, the direction was self evident – Exclusivity. Unlike other lawyer directories that will list anyone that pays their listing fee, we only work with lawyers that meet our minimum listing requirements of having 10+ years of experience, being a firm partner and/or a certified specialist.
The exclusive nature of our website lets consumers – and us – know experienced counsel is available to handle their legal issues.
It is incredibly satisfying to have helped our clients that have used other directories or referral services without affect and/or are nowhere to be found in Google, or retained an SEO agency to have their pockets cleaned and reputations damaged.
We are always working hard, behind the scenes, and look forward to our continued growth and success. Mostly, we look forward to continue serving the needs of experienced Canadian lawyers, helping them achieve the online visibility they deserve and connect with consumers in need of their legal expertise.
Wishing you all a happy, healthy and prosperous 2016!
Whether you are a sole practitioner or a law firm with offices across Canada, our national online lawyer directory,
toplawyerscanada.ca
; and our related municipal based lawyer directories, give you the exposure you need in a competitive legal marketplace.
Contact us today!

Image courtesy of vectorolie at FreeDigitalPhotos.net
1831 total views, 1 today