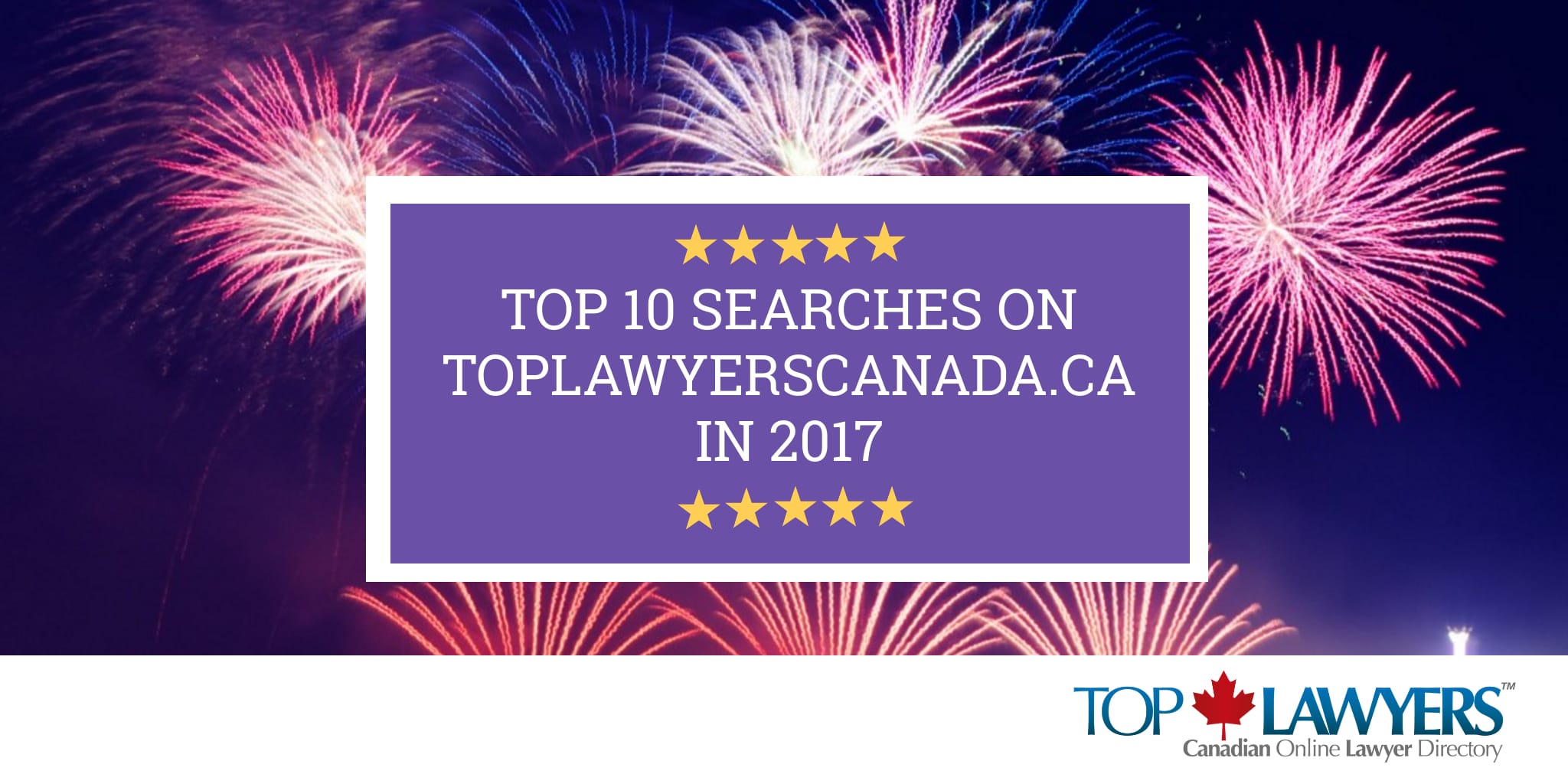 As 2017 comes to a close, we take a look back to review the year that was on toplawyerscanada.ca.
Once again our year over year traffic is up and we continue to achieve enviable, page one search results, for the vast majority of the lawyers listed with us and the highly competitive search phrases important to their practices.

Our top 10 most searched for lawyers by category in 2017 are:
Toronto Criminal Defence Lawyers
Toronto Divorce Lawyers
Toronto Family Lawyers
Toronto Personal Injury Lawyers
Ottawa Divorce Lawyers
Toronto Medical Malpractice Lawyers
Toronto Employment Lawyers
Brampton Criminal Defence Lawyers
Hamilton Personal Injury Lawyers
Ottawa Personal Injury Lawyers
When I first registered and started Top Lawyers™ in 2010, I anticipated personal injury law to dominate the search requests/visits to our site. While we receive significant visits seeking personal injury lawyers in Toronto and elsewhere, over the last few years, searches for criminal defence lawyers in Toronto and the GTA as well as searches for Divorce Lawyers in Toronto and Family Law Lawyers in Toronto and the GTA have held the top spots.
In 2017 it was very personally rewarding that two of our client law firms were so happy with the business development and visibility results of our website, they elected to expand their advertising presence with us. Both of these respected law firms are current and former recipients of Canadian Lawyer Magazine's prestigious "Top 10 Personal Injury Law Firms in Canada" and "Top 10 Boutique Personal Injury Law Firms in Canada" award list.
In the last quarter of 2017, we noticed a "dance" of sorts in Google between law firm web sites and lawyer directories. In the past, lawyer directories dominated page one results. Today we are seeing more individual law firms make the cut to appear on page one. This is a good thing in my humble opinion as ultimately, it is about connecting consumers with very serious legal concerns to the experienced lawyers that can best help them.
In 2018, We will quietly strive to continue and enhance the dominate search results we achieve for the lawyers that list with us. We also anticipate implementing an exciting strategic change to better serve our clients. Details to come.
We wish you all good health, good fortune, happiness and prosperity in 2018 and beyond. Happy New Year!
(Note: Source = Google Analytics. Other pages have higher traffic, i.e. individual lawyer pages, but these are our top category pages 2017.)
We can help you! Whether you are a sole practitioner or a law firm with offices across Canada, our national online lawyer directory,
toplawyerscanada.ca
; and our related municipal based lawyer directories, give you the exposure you need in a competitive legal marketplace.
Contact us today!
1508 total views, 1 today