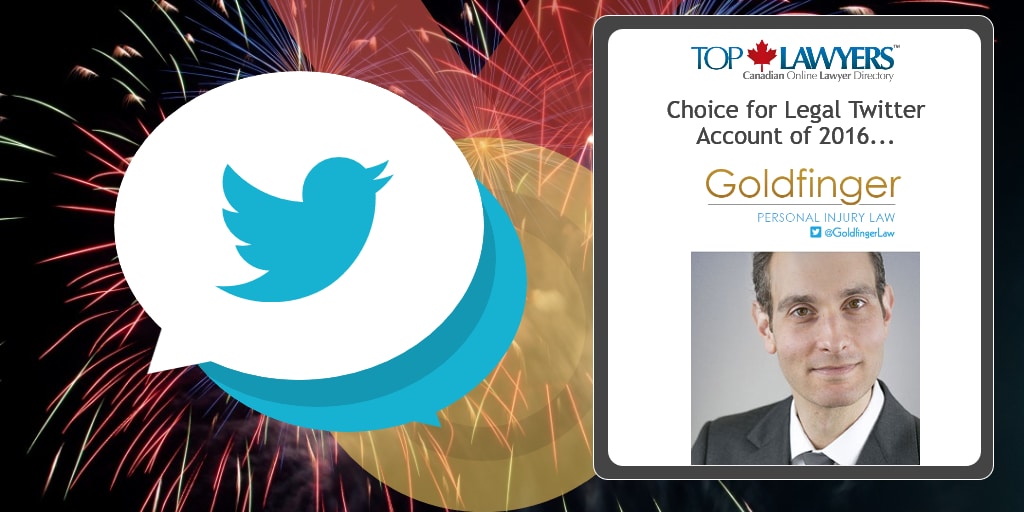 Another year has come and gone.
Time to name our #legal Twitter account of 2016! (Drum roll please…)

By the power invested in me, by me, I unilaterally declare @GoldfingerLaw to be Top Lawyers' 2016 legal Twitter account of the year!
Some lawyers "mail in" their blog posts. They pick a topic, cobble together a few paragraphs and call it done. (Hello pot? This is kettle. As a web guy, I am guilty of this myself.) Not Brian Goldfinger – He regularly posts epic blog entries on topical legal matters pertaining (Largely) to personal injury law and/or matters of interest to accident and injury victims. He strikes the very important balance of educating John and Jane Q. Public in his posts, without giving specific legal advice.
Remember the ice storm of 2013? After power was restored, I began researching how to be better prepared for such events. One of my favorite discoveries was a post by Brian on his experience surviving without electricity – Complete with links to equipment he used to keep his family more comfortable during that miserable time. I knew the Goldfinger name and his reputation as a well regarded Toronto personal injury lawyer, but sharing this survival post told me something more – He's a guy that cares about his fellow man. Beyond legal expertise, what better quality would you want in a personal injury lawyer?
For a few years now, Brian has advertised with us here on Top Lawyers™ and I am proud to have him. I am also happy to have witnessed the growth of Goldfinger Personal Injury Law from its Toronto office to opening locations in London, Peterborough and Kitchener-Waterloo. On a personal note, I am very proud of what we have obtained for Brian, securing enviable positioning for him and the key search phrases important to his practice.
Whether you are a layperson, lawyer or other legal professional, @GoldfingerLaw is a must follow. I am sure you will enjoy his feed as much as I have throughout the years.
Happy new year to you all!
Related:
+ View our 2015 Twitter legal account selection
Whether you are a sole practitioner or a law firm with offices across Canada, our national online lawyer directory,
toplawyerscanada.ca
; and our related municipal based lawyer directories, give you the exposure you need in a competitive legal marketplace.
Contact us today!
Sources: If someone you care about has been injured, see Brian's profiles or his website for details on how he can help.
+ Goldfinger Personal Injury Law
+ Toronto Personal Injury Lawyer
+ London Personal Injury Lawyer
+ Peterborough Personal Injury Lawyer
1784 total views, 1 today