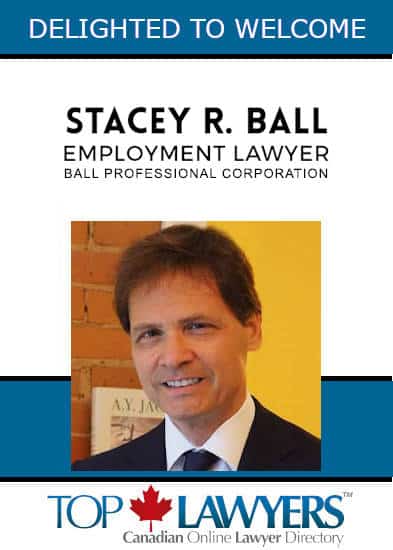 We are delighted to welcome Toronto employment lawyer Stacey Ball to Top Lawyers ™.
Mr. Ball is regarded as a leading employment and labour law lawyer in Canada.
Mr. Ball has held adjunct professorships teaching employment law at The University of Western Ontario Faculty of Law and Osgoode Hall Law School.

Stacey Ball is the author of Canadian Employment Law – The definitive text on employment law used in law schools and referenced by employment lawyers and judges across Canada.
To discover more about Stacey Ball's practice and experience, please see his profile:
+ Toronto Employment Lawyer – Stacey Ball
We can help you! Whether you are a sole practitioner or a law firm with offices across Canada, our national online lawyer directory,
toplawyerscanada.ca
; and our related municipal based lawyer directories, give you the exposure you need in a competitive legal marketplace.
Contact us today for details
or click here and
join up right now
!
Related Categories in this post:
+ Top Employment Lawyers Toronto
Also see: Experienced Employment Law Lawyers
1406 total views, 1 today