Personal Injury Lawyer Helps Real People with Real Problems
The Advocate Files: Personal Injury Law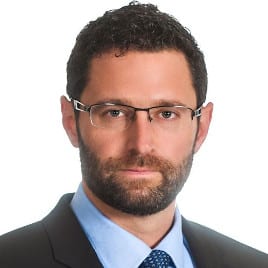 `
Personal Injury Lawyer Helps Real People with Real Problems
Comment by: Paul Cahill – Toronto Injury Lawyer at Will Davidson LLP.
From his early years in law school, Toronto personal injury lawyer and medical malpractice lawyer Paul Cahill knew he wanted to help people.
Working with clients at a legal aid clinic, Cahill grew an appreciation for the practical aspects of law, working directly with individuals, which appealed to him more so than the academic.
"I knew I wanted to represent people rather than companies or corporations, or areas of law that have more to do with big business," says Cahill, now a partner at Will Davidson LLP.
Cahill articled at Will Davidson, working on a number of trials with senior lawyers. "It solidified my determination to help and represent individuals," he says.
He also worked on a long and complicated medical malpractice trial, eventually developing it into his own practice area.
"It has grown to the point where I probably get a few phone calls a day for referrals for medical malpractice claims," Cahill tells Top Lawyers.
"It's an area where there are certainly a lot of injured patients who want to potentially sue their physicians."
Cahill, who became a partner at Will Davidson in 2011, also represents individuals for personal injury claims related to motor vehicle accidents, occupier's liability and long-term disability.
He has appeared at both the Divisional Court and the Court of Appeal. He has represented clients at administrative boards and tribunals, including the Workplace Safety and Insurance Appeals Tribunal, the Health Professions Review and Appeal Board, and the CPP Review Tribunal.
"I enjoy the law and I enjoy what I do," says Cahill, a married father of three boys. "My clients are happy and get good results. I'm available to my clients, and I'm not afraid to go court when it's required."
Cahill, who enjoys sports such as snowboarding, biking and running — he runs about 10 km home from work most days — says he likes staying active, both at work and at home.
"I find it helps with the amount of energy required to maintain a full-time practice and a happy family," he says.
To find out more about Paul Cahill, visit Will Davidson's website and watch Cahill's video.
This and other articles / posts originally appeared on the now defunct advocatedaily.com. As expressed in writing by that website's owner, the articles / posts, part of a paid service provided by Advocate Daily, are the intellectual property of the lawyer and/or legal service provider who wrote, or for whom the article / post was written and they are free to use as they wish.
All articles / posts redeployed on Top Lawyers are done with the expressed consent of the professionals mentioned in said article / post.