Koster Has Seen it All During Three Decades in Workplace Violence
The Advocate Files: Legal Supplier | Workplace Violence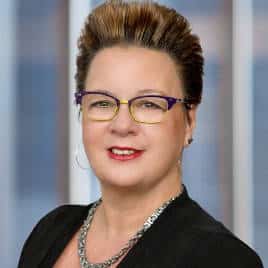 Koster Has Seen it All During Three Decades in Workplace Violence
Toronto workplace violence and elder abuse consultant Denise Koster, has been gripped by the ongoing harassment and sex assault scandals spreading across the entertainment and political scenes on both sides of the border.
But Koster, principal of Koster Consulting & Associates says that she has a unique perspective on the wave of stories making the news.
"I've been dealing with these issues in private practice for more than 20 years — everything from discrimination, sexual harassment and workplace bullying," she says. "These situations have been around forever, but it tends to be when something bad happens, particularly involving someone who is famous or noteworthy and it makes the news that people become aware and start talking about it."
"And that's a great thing," adds Koster, who works with employers in the areas of occupational health, workplace violence, investigations and threat assessments.
Koster's work in the field of violence and elder abuse dates back to the mid-1980s when she was an inner-city community worker assessing seniors with health and social services.
During her time there, one of her clients — a 76-year-old indigenous woman — was murdered by her caregiver. The case had a profound effect on Koster, who responded by starting a Toronto-based elder abuse network.
"Elder abuse wasn't discussed then. It was a new phenomenon, but I wanted to raise awareness — not only with service providers, but also with older adults," she explains.
She began training front-line workers on how to treat seniors living in the community or in long-term care homes with respect and dignity, and over the years, her practice evolved to include creating strategies for staff facing aggressive behaviours from clients or colleagues.
In the last decade, her main focus has become conflict in the workplace, particularly since the passage of Bill 168, which introduced requirements for risk assessments and policies regarding on-the-job violence and harassment.
More recently, Bill 132 amended Ontario's Occupational Health and Safety Act, mandating employers to conduct investigations into incidents of alleged workplace harassment.
The bill also explicitly expanded the definition of workplace harassment to include sexual harassment and provides provincial inspectors with the power to order an impartial investigation at the employer's expense.
"A great deal of my work now is conducting investigations," Koster says. "The laws have changed, and people are much more aware of their rights and have more supports in place to assist them in coming forward."
Before the legislative changes, she says victims of workplace harassment had fewer viable legal options. They could file a complaint with the Ontario Human Rights Commission, but it would only act if the harassment could be tied to a protected ground of discrimination, such as race, sex or family status.
"I always felt terrible when a complainant couldn't link the harassment to a protected ground because there was no external body who could assist them with the issues they were facing," Koster says.
Koster's clients operate in a range of industries, including retail, health care and many others.
"Every client is unique, but the issues are usually the same. They just manifest differently," she says. "I'm not an expert in nursing or paramedical services, but I do know how to conduct an unbiased investigation. Workplaces that operate 24/7 have a different dynamic to ones that have more 9-to-5 hours, but I have experience in all of them."
Koster says many prefer to call her in to investigate complaints, rather than do the job themselves internally, especially if the allegations involve someone high up in the organization's chain of command.
"There's really no such thing as an unbiased internal investigation," she says. "I don't make recommendations about sanctions. My job as a neutral third-party investigator is to determine based on legislation whether the complaint can be substantiated or not, and file a report on it."
A growing segment of Koster's business relates to threat assessments. She's a graduate of Gavin de Becker's Advanced Threat Assessment and Management Academy in California and says the area is one that not enough employers take seriously.
"There have been cases where people come back after they're terminated and hurt people, but nobody is thinking about safety plans or protocols for an event like that," Koster says. "We do fire drills once a month, but what happens if someone walks in the door with a baseball bat?
"People think it will never happen in Canada, but I think these are conversations that we need to have," she adds.
Does this article speak to you? Was it helpful?
Denise Koster provides management and labour groups with investigation services, practical education, intensive training and consultation on workplace violence, harassment and other HR issues pertaining to safe and comfortable workplaces. Additionally, as a Certified Threat Manager (CTM) and Certified Workplace Violence and Threat Specialist (WVTS), Denise provides workplaces with customized threat assessment and management plans. Learn more about Koster Consulting & Associates.
Discover more about Toronto Workplace Violence Investigator, Denise Koster.
This and other articles / posts originally appeared on the now defunct advocatedaily.com. As expressed in writing by that website's owner, the articles / posts, part of a paid service provided by Advocate Daily, are the intellectual property of the lawyer and/or legal service provider who wrote, or for whom the article / post was written and they are free to use as they wish.
All articles / posts redeployed on Top Lawyers are done with the expressed consent of the professionals mentioned in said article / post.