Cahill 'Excited' to Chair OTLA's Medical Malpractice Section
The Advocate Files: Personal Injury | Medical Malpractice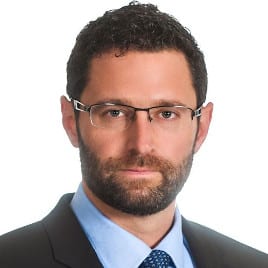 Cahill 'Excited' to Chair OTLA's Medical Malpractice Section
Comment by: Paul Cahill – Toronto Medical Malpractice Lawyer at Will Davidson LLP.
Toronto medical malpractice lawyer Paul Cahill says he is confident his experience in the field will allow him to "make a meaningful contribution" as section chair of the medical malpractice section of the Ontario Trial Lawyers Association (OTLA).
"I've always been a member of OTLA. I think it's a great organization," says Cahill, partner with Will Davidson LLP. "This is my first time actually being involved in a more meaningful way, and I'm really happy and excited to have that opportunity."
The OTLA is a non-profit association for plaintiff lawyers and staff. According to its website, part of the group's mandate is to train its more than 1,500 members in the "highest standard of practice."
Cahill tells us it is with that in mind that he got involved.
"Medical malpractice is a very specialized and difficult area to practice. I think it's important that as much education, training and knowledge in the area be available so that we have the highest-quality representatives out there advancing cases on behalf of injured patients," he says.
Cahill says one of his responsibilities during his one-year tenure will be to study policies that come out of the College of Physicians and Surgeons of Ontario "to see if OTLA wants to respond or give comments."
He says he will help summarize malpractice cases and keep members apprised of emerging trends in the field. He will also assist with continuing legal education and arrange for speakers for OTLA conferences.
"During my tenure, I hope to raise awareness of how to best prosecute medical malpractice claims among fellow lawyers in Ontario so that any lawyer handling a case can do the very best," Cahill says. "Even with a strong case with excellent experts, there's a very good chance you'll end up in court. Once you are, anything can happen, so you want to ensure that everyone in the community is as well educated as they can be."
This and other articles / posts originally appeared on the now defunct advocatedaily.com. As expressed in writing by that website's owner, the articles / posts, part of a paid service provided by Advocate Daily, are the intellectual property of the lawyer and/or legal service provider who wrote, or for whom the article / post was written and they are free to use as they wish.
All articles / posts redeployed on Top Lawyers are done with the expressed consent of the professionals mentioned in said article / post.