Cyclist Safety is Everyone's Business: Cahill
The Advocate Files: Personal Injury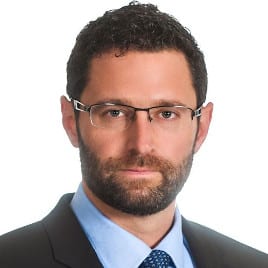 `
Cyclist Safety is Everyone's Business
Comment by: Paul Cahill – Toronto Personal Injury Lawyer at Will Davidson LLP.
Common sense and calmness are important in the relationship between motorists and cyclists, says Toronto personal injury lawyer Paul Cahill.
Following traffic rules, respecting everyone using the road and ensuring personal safety are key at arriving alive and uninjured, says Cahill, partner with Will Davidson LLP.
The biking enthusiast who commutes about 20 km a day to and from work tells us there are a number of new roadway laws and regulations now in force in Ontario to address safety for two-wheelers.
The province introduced traffic lights at some intersections to make it safer for cyclists to cross, Cahill says.
"There's the One Metre Passing Law that requires motorists to leave a distance of at least one metre when passing a cyclist, which I think is important," he says.
The penalty to motorists could be significant as the set fine is $110, including a $20 victim surcharge and $5 court fee. If contested and the driver is found guilty, they could be fined between $60 and $500 and hit with two demerit points.
Cahill says there is a higher fine for improperly opening a vehicle door into the path of an oncoming cyclist, known as "dooring." The set fine for the driver or passenger who doors a cyclist is $365, including a $60 victim surcharge and $5 court costs, and three demerit points, a substantial increase from the previous $85 fine plus court and victim fees and two demerit points being added to the driver's tally, he says.
"People do tend to just open their doors without looking, even though the cyclist has the right of way," he says.
The province is also considering raising the current $20 fine to cyclists not properly complying with light and reflector regulations.
"Bike accidents can result in serious injuries," Cahill says. "People break their collarbone, their arm, their leg, and even suffer brain injuries or death."
He says there seems to be an ongoing conflict between motorists and bicyclists.
"I see it myself because I'm on the road," Cahill says. "I think everyone needs to be aware of each other."
He says the expansion of bike lanes throughout Toronto and area has helped to make it safer.
"But during rush hour, whether people are on a bike or in a car, they get impatient and wanting to get to where they're going, and sometimes they take risks in order, in their mind, to save time, and that's when accidents happen," Cahill says.
In Ontario, riders under 18 are required to wear an approved helmet and it's recommended that adults don them too.
"From a legal perspective, if you get hurt, the insurance company is going to say you're to blame in part for your injuries and you may get less compensation," Cahill says, similar to a person who wasn't wearing a seatbelt and was injured in a collision.
"If you fall off your bike and you hit your head and get a brain injury or a concussion, and you're not wearing a helmet, guess what? The insurance company will say, 'We won't pay for damages because you chose not to wear a helmet.'"
Cahill says the same rules apply to cyclists with no lights or reflection at night.
"Insurance companies could make the argument that the cyclist was contributory negligent for failing to have a reflector, which is compulsory, and you could get less or no damages as a result," he says.
"I think there is a positive obligation on bicyclists to take all reasonable steps to ensure their own safety. Apart from the risk of being injured, there could be a danger of not getting any compensation from the accident."
Cahill says cyclists can never be too safe and must ensure they're ready to take on the road.
"Enforcement by police helps, but more than anything, I think it's about awareness," he says. "Everybody, especially if those who have children, need to check bicycles to make sure they're in good working order, they have reflective gear, and ensure children know the rules of the road."
This and other articles / posts originally appeared on the now defunct advocatedaily.com. As expressed in writing by that website's owner, the articles / posts, part of a paid service provided by Advocate Daily, are the intellectual property of the lawyer and/or legal service provider who wrote, or for whom the article / post was written and they are free to use as they wish.
All articles / posts redeployed on Top Lawyers are done with the expressed consent of the professionals mentioned in said article / post.