Slip and Fall Liability not Just an Icy Winter Issue
The Advocate Files: Personal Injury | Slip and Fall Liability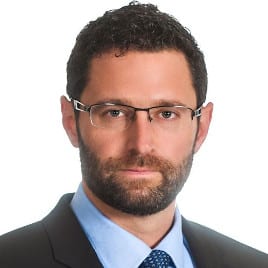 Slip and Fall Liability not Just an Icy Winter Issue
Comment by: Paul Cahill – Toronto Medical Malpractice Lawyer at Will Davidson LLP.
Business and homeowners who don't clear ice and snow from their sidewalks will spend more time and money in court on the issue than if they just took a few minutes to do the job in the first place, says Toronto personal injury lawyer Paul Cahill.
"A fall can result in a serious injury, especially if the person is elderly and breaks a hip. In some cases, they may not be able to have surgery, and they could end up dying," says Cahill, partner with Will Davidson LLP.
There are two sides to the slip-and-fall issue, he says. One is that of a business and the other being a homeowner's property and the sidewalk in front of their residence.
"If someone slips and falls in a public space, or even a private space, it may be actionable if they sustain an injury," Cahill tells us. "If the location is a sidewalk in a municipality, generally there is a higher standard of duty of care."
There are a couple of wrinkles, he says. One is that a municipality like Toronto has hundreds of thousands of kilometres of sidewalk to clear and they won't get it done in a few hours.
"They will, of course, prioritize the major roads first, then the sidewalks, which have the most pedestrians and lead to transit. It may be some time before they get to the side streets and the sidewalks," Cahill says.
The public expectation is that the homeowner is liable if someone slips and falls on the sidewalk in front of their property, but that's not necessarily true, he says.
The sidewalk isn't their property and a 2000 court decision held the municipality cannot download the responsibility for clearing it to the homeowner, "any more than it can transfer the responsibility of clearing the highway."
So, the municipality is civilly responsible for any slip and fall because of an uncleared sidewalk, Cahill says.
If, however, the slip and fall happens on the homeowner's property — such as the driveway or walk leading to the house or on the steps — the homeowner may be held liable, he says.
In a bit of a legal twist, the city does have bylaws and will levy fines if sidewalks aren't cleared. Businesses, on the other hand, are bound by the Occupier's Liability Act, Cahill says.
"If someone has a business and expects customers to come and go, it's their responsibility to clear the snow and ice as quickly as possible because any slips and falls are their liability," he says. "And it makes sense. They don't want their customers to get hurt nor do they want anyone walking in front of their premises to get hurt."
The legal liabilities aside, Cahill says there's a social responsibility to the community to keep thoroughfares clear and safe and a little time invested will save time and expense if things end up in court.
"This is not just winter with snow and ice," he says. "It applies to pretty well anything which may render a sidewalk or private space leading to a business unsafe."
This and other articles / posts originally appeared on the now defunct advocatedaily.com. As expressed in writing by that website's owner, the articles / posts, part of a paid service provided by Advocate Daily, are the intellectual property of the lawyer and/or legal service provider who wrote, or for whom the article / post was written and they are free to use as they wish.
All articles / posts redeployed on Top Lawyers are done with the expressed consent of the professionals mentioned in said article / post.